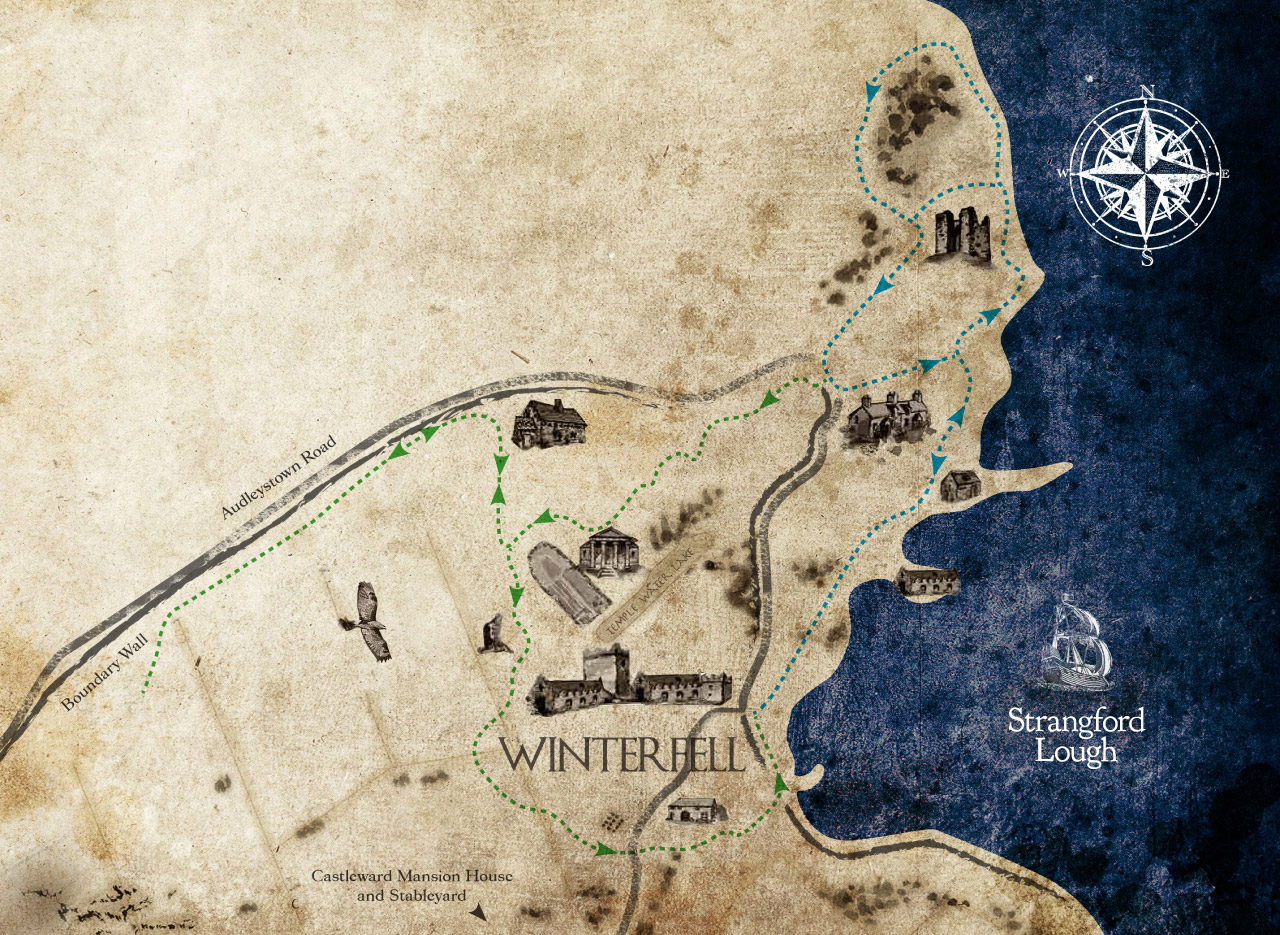 Just 40 mins from Belfast & 2 hours from Dublin by road & 2.5 hours from London by road/air
PLEASE NOTE: Only customers pre-booked via this website will be permitted into Winterfell Castle & Demesne.
Game of Thrones Film Locations Map
1. 'Castle' where Bran falls from window ledge
2. 'Archery Range' in Winterfell Courtyard
3. 'The Cottage' aka Brothel of Winterfell
4. Crypts entrance
5. 'Castle Gates' from King Robert's arrival to Winterfell
6. 'The Barn' where Tyrion slaps Joffrey!
7. 'The Byers' from Winterfell Forge
8. 'Climbing Wall' – Bran Stark
9. 'The Doorway' where Jon Snow meets Tyrion for very 1st time
10. 'The Stone Wall' where Ned kills Direwolf Lady
11. 'The Tree' under which Robb & Talisa get married
12. 'Shoreline Pathway' Robb & Talisa walk along talking
13. 'The Shoreline Field' & 'Castle' of Robbs Camp
14. 'The Castle' which doubles as one of Walder Frey's Twins
15. Jamie Lannister Cage at Robbs Camp
16. 'Crooked Tree Branch' overlooking Walder Frey's Twins
17. 'The Tree' where Brienne confronts the Stark men
18. 'Pathway' where Tyrion Walks, Talks & Whistles with Bronn
19. 'The Field' of Baelor Battlefield
20. 'The Field' of Lannister Camp

Westeros Cycle Trail Start

Through the dark hedges are the waters of Strangford Lough - where Brienne of Tarth brought Jamie Lannister ashore in a rowing boat whilst taking him to Kings Landing captive & fittingly also where Saint Patrick first came ashore to Ireland in a rowing boat back in the 5th Century (the Vikings gave the lough the Norse name 'Strangfyorthe', meaning place of strong tidal currents or strong fjord).
Now is your chance to discover these epic Game of Thrones filming locations for yourself - walk in the footsteps of Tyrion Lannister and Jon Snow and recreate your own favourite scenes from the show!